The Holy in Nature: A Reflective Photography Workshop (onsite)
Marissa Jacobs
April 15, 2023
Have you ever wanted to better use your nature photos for your spiritual journey?  The art of photography can be a spiritual tool for encountering what is holy in nature.  Through the camera lens, we can focus our attention on the awe-inspiring and hold it for reflection.
This workshop will provide all three parts of the reflective process: spending time in nature, taking pictures of it and reflecting with them afterwards to enter more deeply into their connection with the greater Mystery of Life.
Throughout the day, we will ponder divine creativity and mystery as we reflect with the sense of sight.  Participants will learn the art of photography composition as well as some basic photography techniques before heading out to capture reverently photos of Cranaleith's beautiful grounds.   In the afternoon, we will share photos and discuss what captivated us spirituality about each shot. Finally, we will practice visio divina, a type of reflective prayer using images.
DSLR cameras, tablets and phones are welcome.  Please bring a laptop or tablet (with email access or a cord to connect to your camera device), so we can create a group slideshow for afternoon reflection.
In the case of rain, participants will learn how to create a simple camera cover to protect their gear from the wet weather.
Facilitator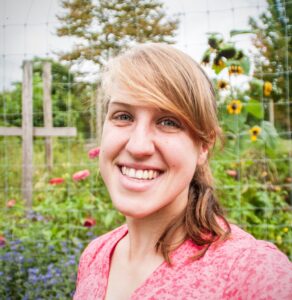 Marissa Jacobs
Marissa Jacobs is an Environmental & Conservation Educator.  She blends the arts with science in order to bring glory to God's Kingdom by teaching others about the wonderful natural world that God created and how to be stewards of that creation. Marissa is an international speaker, professional development facilitator, award-winning nature photographer…
Learn more about Marissa Jacobs