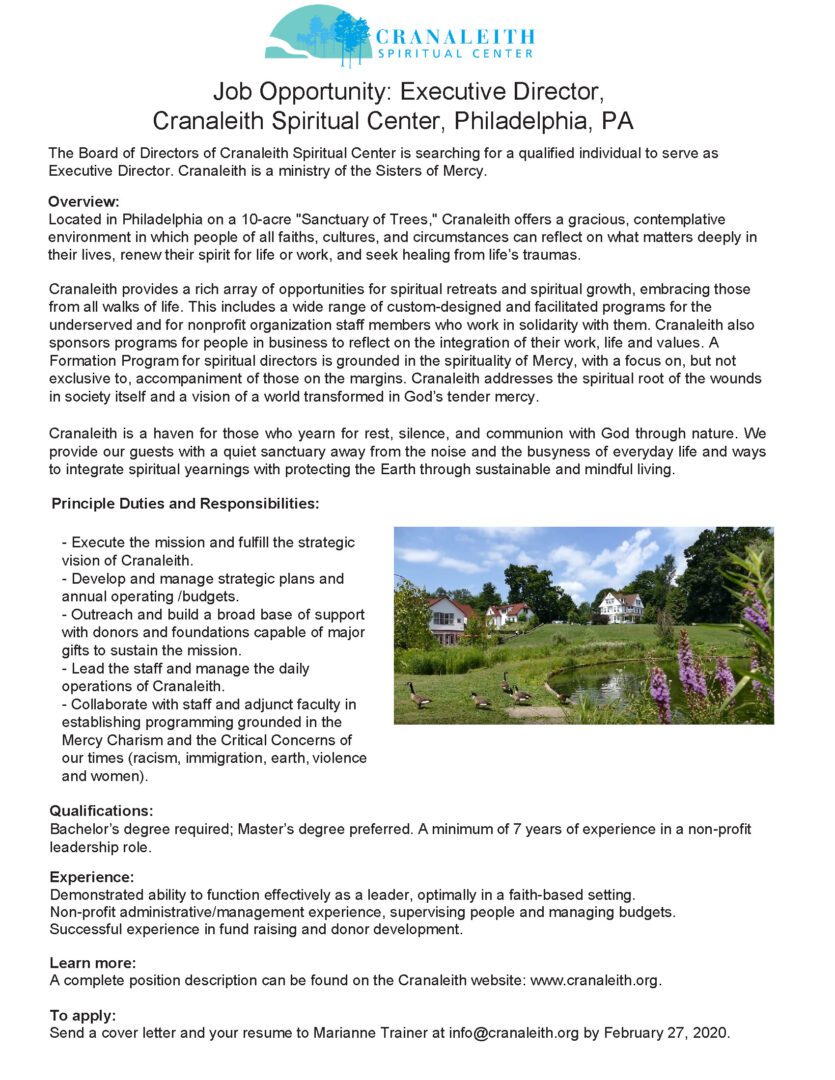 Position Title: Program Director

Cranaleith Spiritual Center is looking for a Program Director responsible for developing and operationalizing retreat and program activity in faithfulness to the mission of Cranaleith, intentionally attending to the spirituality and mission of Mercy, its critical concerns and core values of compassion and justice. In addition to fulfilling the principle duties and responsibilities, the successful candidate will project a high degree of identification with and passion for the mission of Mercy.
Principal Duties and Responsibilities
Organize, coordinate and as necessary participate in retreats and programs developed in collaboration with presenters and Cranaleith staff, shaping schedule of offerings to reflect the identity of Cranaleith as a Mercy Spiritual Center
Develop annual program calendars (Summer, Fall/Winter/Spring) including the identification of themes/topics, presenters, dates, pricing and potential marketing strategies in collaboration with Marketing/Communications, Finance and Conference Center staff
Develop and manage annual programs budget
Recruit and contract with presenters to provide retreats, programs and services
Manage presenters and programs including continuous cultivation of relationships, compensation/ stipends and support
Cultivate, place and nurture volunteers to support programs and hosted groups operations
Assess and evaluate existing programs and utilize resulting information to modify and grow program offerings
Support Board of Directors Program Committee including development and timely submission of quarterly minutes and reports
Other related duties and responsibilities
 Required Knowledge, Skills, and Abilities
Demonstrated previous experience in programs regarding spiritual and religious development, retreat ministry and/or spiritual direction; group dynamics and team building; management/administration; knowledge of creating the environment conducive to prayer
Highly organized and capable of handling a variety of responsibilities related to program development and operations
Creativity, flexibility, capacity to make independent decisions when circumstances warrant
Ability to network and interact with a broad base of individuals/organizations
Computer skills and proficiency in MS Office Suite
Excellent verbal and written communication skills
Minimum of master's degree with at least three years of previous retreat/spiritual direction and administrative experience with current continuing education
Ability to work evenings, weekend daytime in a flex schedule as required
 Please forward your over letter and resume to info@cranaleith.org.
Volunteer
Click here to learn more about volunteer opportunities.