Nice Racism: Spring Book Circle (online)
Tylia Barnes
March 28 - May 9, 2023
Join this four-part conversation circle as we discuss Nice Racism: How Progressive White People Perpetuate Racial Harm by Robin Di Angelo.  In a spirit of humility and faith, the series will engage in conversation and spiritual practice which will challenge and enlighten participants' consciousness while examining the dissemination of suppressed and inherent racist patterns exercised daily by well-intentioned people.  During each two-hour circle, we will collectively and individually explore aspects of Di Angelo's claim, white progressives cause the most daily harm to people of color.  Through a lens of compassion and integrity, the conversation will yield greater understanding of the influence systemic racism has on personality formation and its collective consequence.  Together we will build and grow as a faith community striving towards racial equity.
Each circle will include time for prayer, reflection, and virtual roundtable conversation in small, large and/or affinity groups.
Please obtain a copy of the book on your own.
Facilitator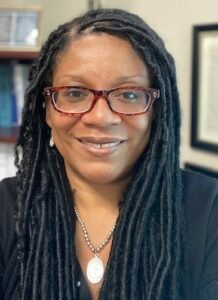 Tylia Barnes
Tylia joined the Sisters of Mercy, South Central in March 2011. On September 24, 2012, she answered her call, making covenant as a Mercy Associate on Mercy Day.  Currently, she serves as Executive Director of Association and is directly responsible for more than 3,000 associates across the United States, Central…
Learn more about Tylia Barnes