From Stress to Peace: Thérèse of Lisieux and the Way of Nonviolent Love (onsite)
Marisa Guerin, PhD
February 4, 2023
Sometimes we feel strangled by the stresses of life and other times we collapse in exhaustion from the burden of being all things to all people.  We blame ourselves for our failures, lose patience with others, and get upset with the world.  Is there a way out?  Yes!
Thérèse of Lisieux, an unexpected mentor, learned to live and teach a way of daily, creative love without violence to herself, to others, or to the circumstances of life itself.  Thérèse is often dismissed by those who think her life of simple holiness is not relevant today.  Big mistake — Thérèse tackled the inner dramas that keep us tied up in knots.  She grasped the insidious trap of perfectionism, the tyranny of our willful egos, the ways that we bully ourselves and others under the guise of doing good and being better.
In this retreat, we will reflect on the strikingly modern psychological and spiritual wisdom of Thérèse as she leads us to a life of nonviolent love.  Her wisdom helps us to avoid beating up on ourselves when we inevitably fail to be perfect.  She shows us how to compassionately love others on their terms, not ours, while also honoring our own boundaries.  And she demonstrates a spirit of gratitude for all that unfolds in our lives, the joyful and the sorrowful, anchored in her trust that we are always held in the love of God.  The retreat will involve two rounds of presentation, quiet personal reflection time, and opportunities for both small and large group conversation.
Facilitator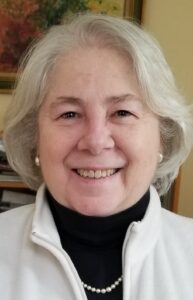 Marisa Guerin, PhD
Marisa Guerin, Ph.D., is a writer, teacher, and retired consultant to nonprofit, business, and religious organizations. She is a former Cranaleith Board member and has conducted many Work and Spirit programs at Cranaleith. Earlier in her career she served as the Director of the US Bishops' Office of Youth Ministry…
Learn more about Marisa Guerin, PhD