Call and Response: A Day of Storytelling and Music-making (onsite)
Timothy Simmons
June 25, 2022
At a time of upheaval and change, knowing who we are and where we are headed is paramount.  What is your story?  How will you tell it?  How do the stories of others affect and inspire you?
As a teaching artist and musician who works with young people with learning differences, Timothy will share one of his stories and lead participants through a series of improvised music-making exercises.  Then, participants will be guided through the process of turning their life experiences into stories of their own.  At the end of the day, participants will share their stories, while their audience will respond by creating the musical soundtrack for each story.  It will be a day of creativity, storytelling, music-making, and connecting with each other through word and sound.
No prior musical or writing experience is necessary; all experience levels will be honored.  Timothy will provide musical instruments and writing materials, but please feel free to bring your own as well.  Come, tell your story with us!
Lunch included.
Facilitator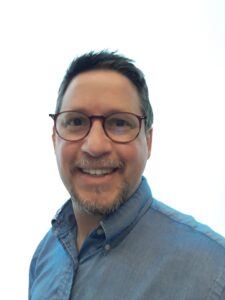 Timothy Simmons
Timothy Simmons is a former Mercy Volunteer, a Mercy Associate and a music teacher at Delaware Valley Friends School in Paoli, PA. A lifelong drummer and multi-instrumentalist, he has developed a music curriculum for adolescents with learning differences called "Song in Everything". He also recently released a new album called "Transforma: Light Returning". You…
Learn more about Timothy Simmons