Saints and Their Pets (offered both online and onsite)
Mickey O. McGrath, OSFS
September 30, 2021
Many of our favorite saints had a special love for animals.
Martin de Porres is the patron saint of veterinarians.
Brigid of Ireland tamed a fox and owned a very special cow.
Nicholas Black Elk rode a horse named Baloney.
Francis of Assisi and St. Thérèse of Lisieux loved a wolf, a dog and the birds.
In this light-hearted evening of reflection, Brother Mickey will share paintings and stories of these saints and many others who help us celebrate ALL of God's creatures, great and small.  Now more than ever, in these times of endangered species of fish and birds  and ever increasing threats to our environment, we must be mindful of – and thankful for – our fellow creatures on earth.  Discover your "spirit animal" and learn how to draw it.
This program will be offered in hybrid fashion, that is, both onsite and virtually at the same time.  Click here if you wish to register to attend ONSITE at Cranaleith.
Facilitator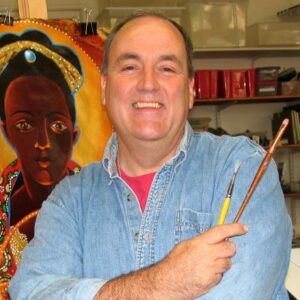 Mickey O. McGrath, OSFS
In a nutshell, I paint, write and tell stories, and then travel all over the place telling the stories behind what I paint and write. My first formal art lessons were at the Moore College of Art in downtown Philadelphia, my hometown. They had classes for young people on Saturday…
Learn more about Mickey O. McGrath, OSFS