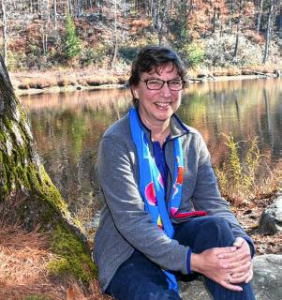 The Rev. Alison Cornish is a Unitarian Universalist minister living in Shelburne Falls, Massachusetts.  After graduating from Wellesley College, Alison spent the first half of her professional life working as an historic preservationist and architectural historian.   After twenty years of work with museums, municipalities and nonprofit organizations, Alison headed to Andover Newton Theological School, responding to a felt sense of call directly from Earth to address what is it that we are doing in our daily lives and habits that is destroying the planet that we inhabit.  After graduation and ordination, and while serving congregations on Long Island, she also began studies with the Buddhist teacher Joanna Macy; delved deeper into the work of eco-theologian Thomas Berry; and became a GreenFaith Fellow.
In 2013, Alison and her husband Pat moved to Philadelphia where she began her work as a community minister, serving as Senior Director of Programs and Training at Partners for Sacred Places, Director of Congregational and Seminary Initiatives at Interfaith Philadelphia, and Executive Director of Pennsylvania Interfaith Power & Light, and was the Affiliated Community Minister at First Unitarian Church, Philadelphia.
Alison and Pat relocated to New England in 2020 to be closer to family and friends, and to pursue new avenues of work related to care of Creation.  When not working, Alison can be found on, and in, a local natural body of water, currently the Deerfield River.