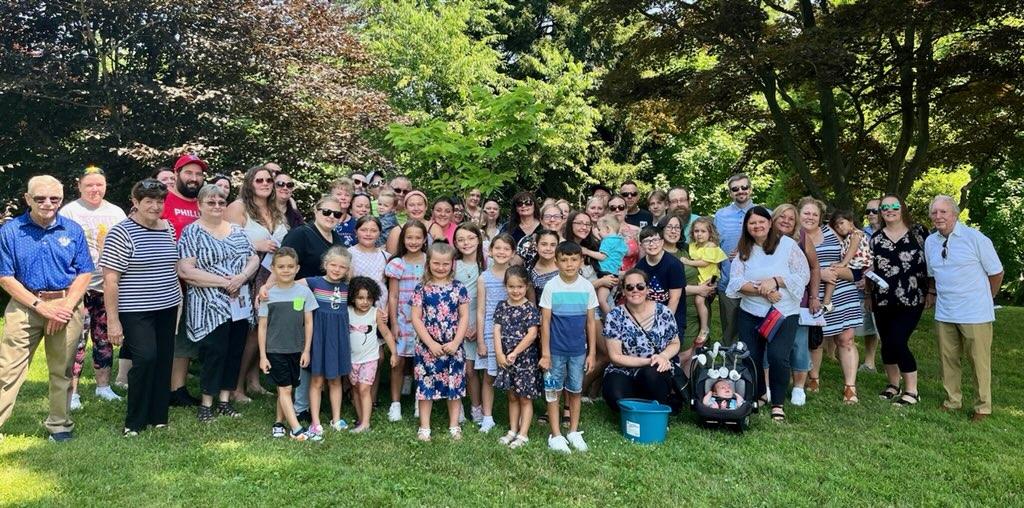 For the employees at Selzer Company in Warrington, PA, Donna Arnold was more than just an accountant and coworker for 20 years. For them, she was a shining light. "Everyone loved her. She was the best. She touched every person with kindness," said Elizabeth "Liz" Kenney who works at Selzer.
When Donna passed away "rather suddenly" earlier this year, her colleagues at Selzer knew they wanted to honor her life and legacy. Liz Keeney had an idea: Plant a memorial tree and plaque at Cranaleith Spiritual Center and have a memorial service at the tree.
Liz is no stranger to Cranaleith. She lives just blocks away on Trevose Road, and her husband grew up a block away from Cranaleith. Called the Mill Rae Estate before becoming Cranaleith, it was home to the Trainer family and something of a community gathering space. "My husband grew up on that property," Liz said. "He used to sled there. He knows Sr. Mary Trainer [who grew up on the property and founded Cranaleith]. We see Sr. Mary at church, and we've been involved in fundraisers for Cranaleith. We love the mission and want to support Cranaleith."
For Liz and her husband, Donna's memorial tree is the third they've been involved with planting at Cranaleith, including one for Liz's best friend and two nieces.
To memorialize Donna Arnold, it was a company-wide effort to raise the money to purchase the tree and plaque that Cranaleith then provides. From several options of trees conducive to growth in Philadelphia's climate, Donna's coworkers chose a flowering Prunus Thundercloud Purple Leaf Plum tree. They asked for the tree to be planted near the road, so they could see it when driving by Cranaleith.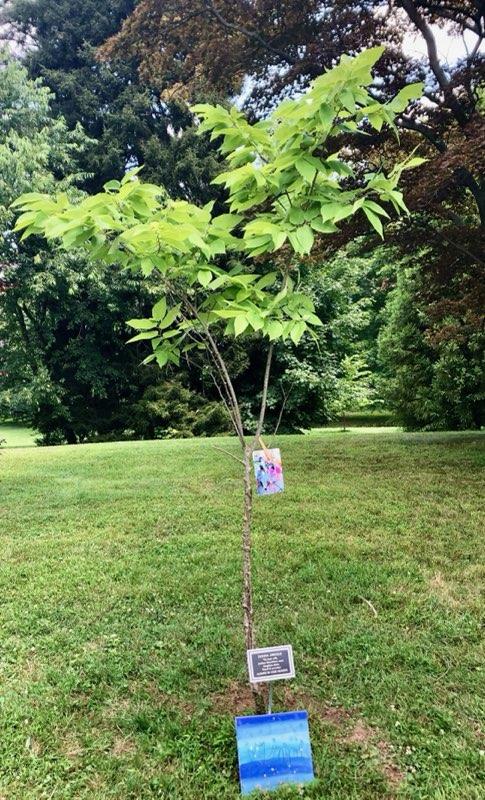 For the plaque inscription, they chose:
DONNA ARNOLD
the best wife,
mother, MomMom, aunt,
daughter, sister,
friend & coworker
ALWAYS IN OUR HEARTS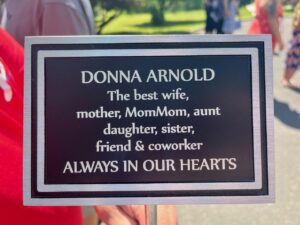 They chose to have a memorial service at the tree in July 2022, presided by Cranaleith's Sr. Maria DiBello. Over 100 people attended, including coworkers, family, friends, and neighbors. "Sr. Maria did a great job with the service," Liz said. "It was a unifying experience for everyone."
The experience of a memorial tree is what Liz finds so inviting. "A tree does not invoke the sadness of a cemetery. A tree is alive.  It provides restful shade and a home for animals. A tree is a positive, beautiful remembrance. Plus, you can come back to the tree to see how it has grown and to remember the person you memorialized."
For the family, friends, and coworkers of Donna Arnold, her tree and memory will bloom for generations.