By the Waking of Our Hearts: The Power of Pentecost, Session 2 (online)
Michele Vincent Fisher, CSFN
April 27, 2023
Going against the Flow: In the Light of the Master
Session 2 of the Series
In his homily for Pentecost Sunday 2022, Pope Francis challenged us:
Let us sit at the school of the Holy Spirit, so that he can teach us all things. Let us invoke him each day, so that he can remind us to make God's gaze upon us our starting point, to make decisions by listening to his voice, and to journey together as Church, docile to him and open to the world.
The time has come for us to pay attention to the stirrings in our hearts and souls, to the sights and sounds and hints of the Spirit's flame, burning within and around us, urging us to be Love, to think, act, pray and move in Love's Name.
Join us for a four-session journey from Easter morn to the great Feast of Pentecost.  Using Pope Francis' apostolic exhortation, Gaudete et exsultate, Sacred Scripture, story, images and spiritual exercises, we will experience the "waking of our hearts" to the incredible power of the Holy Spirit in our lives so that we can become witnesses to the Holy Spirit in the most ordinary experiences of our daily lives…and to the ends of the earth and beyond!
Session 1, April 20: "Out of the Waters of Baptism: The Call to Holiness"
Session 2, April 27: "Going against the Flow: In the Light of the Master"
Session 3, May 4: "Signs of Holiness in Today's World, Signs of Holiness in YOU" (Register for Session 3 only)
Session 4, May 11: "Seeing Everything in a New Way: Spiritual Combat, Vigilance and Discernment" (Register for Session 4 only)
Each session stands independently, so come to as many as you are able.
Facilitator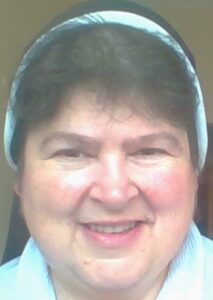 Michele Vincent Fisher, CSFN
Sr. Michele is a native of Schuylkill County, born in Pottsville, PA, and raised in Port Clinton, PA.   She attended Nativity BVM High School in Pottsville and completed undergraduate studies in psychology, Spanish and secondary education at Chestnut Hill College. She later received an MA in Theology and Ministry from…
Learn more about Michele Vincent Fisher, CSFN