Seeking Shalom: Reflection and Practice for Living the Gospel of Jesus: Part 1 (online)
Phaedra D. Blocker, DMin
March 1, 2023
To register for the full series all at once and at a discounted rate, click here.
Session 1: Bridging a False Divide [between the Gospel and Social Justice]
Early Christian theologian, Tertullian, posed the question "What does Jerusalem have to do with Athens?"—suggesting that faith and academic or philosophical frameworks have nothing to do with one another.  In similar ways, there have been those who suggest that the Gospel of Jesus Christ has only to do with the salvation of souls for the afterlife.  This session will help us reflect on the ways in which Jesus connects the "hereafter" to the "here and now."
The Series:
The Lenten season invites us into a period of deep reflection—not only on the life and passion of Jesus Christ, but also how we are called to be transformed and transforming as the Body of Christ in this world—agents and emissaries of God's shalom. Join with us to explore and reflect upon what it means for us to not only hear but live the "good news." Participants will have the opportunity to engage in individual and group/small group reflection, as well as actively exploring supportive spiritual practices and taking steps to shape (or perhaps reshape) a rule of life that helps them to more fully "live" the Gospel of Jesus.
March 1: Bridging a False Divide [between the Gospel and Social Justice]
March 8: The Inner Self in the Outer World
March 15: For the Sake of Others
March 22: My Invitation to Engage
Each session stands independently, so come to as many sessions as you are able.
Facilitator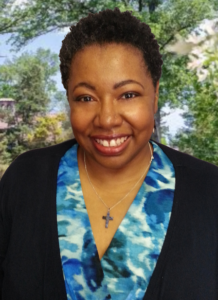 Phaedra D. Blocker, DMin
Rev. Dr. Phaedra D. Blocker is a preacher, teacher, singer, spiritual director and retreat leader. Founder and principal of Word&Wisdom, she is dedicated to empowering individuals and organizations to move toward wholeness and actualize their potential as agents of change and shalom in the world.  She serves as Director of the Center…
Learn more about Phaedra D. Blocker, DMin