Mountains of Grace: Thomas Merton, Martin L. King, Jr. and Amanda Gorman
Christine A. Hearn
October 15, 2022
If life is about climbing mountains, all of us know that some mountains seem too high, some too dark and others crowded with obstacles.  Although some mountains inspire us, some lead us in directions we cannot anticipate.  As we struggle to climb, we look hopefully for a divine light, beckoning us, encouraging us to go even further.
The monk Thomas Merton, the civil rights leader Martin L. King, Jr. and the poet Amanda Gorman have each visited graced mountains, both real and visionary.  Where did God encourage them to begin and continue their respective journeys?  What did they see and encounter?  What divine light invited them to embrace what they found on the mountaintop?
In examining the graced moments of Dr. King, Amanda Gorman and Thomas Merton, we will also consider our own mountaintop experiences.  Through gentle reflection and shared stories, we will identify the inspirations, struggles and spiritual insights that empower us to see the divine light in our own spiritual searching.
This retreat day will include three presentations, conversations, sharing, group prayer and meditative silence.  Bring a journal if you so desire.
Facilitator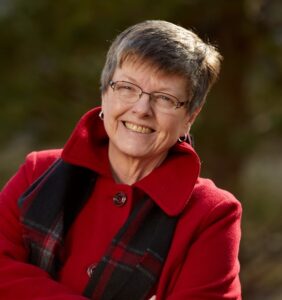 Christine A. Hearn
Christine A. Hearn, MA, CSD — Chris has spent most of her life as a religious educator, pastoral minister, spiritual director and retreat facilitator.  For more than forty years, she has taught elementary and secondary students in the Dioceses of Camden, Metuchen, Philadelphia and Trenton.  Chris has also been an…
Learn more about Christine A. Hearn