An August Afternoon of Music and Poetry
HMS Acoustic Band and Christopher Grosso
August 21, 2022
Do you need a break from the day-to-day stress of life to renew your spirit?  Join us for an afternoon of homegrown music of the HMS Acoustic Band and the homegrown poetry of Cranaleith's very own Christopher Grosso.
Enjoy the unique, quiet and contemplative folk music of the HMS Acoustic Band as they make their fourth appearance at Cranaleith performing a live concert of their music inspired by the human spirit. As Plato wrote, "Music expresses that which cannot be said and on which it is impossible to be silent."
Christopher Grosso will be reading from his latest collection of poems, Said to Godhead (Alien Buddha Press 2022), a one-sided dialogic series of poems directly questioning the figure of Godhead, or whatever one calls the omnipotent creator of ALL.  Direct, yet unabashedly unsure, the poet questions Godhead about the big and little quandaries of life and the assuredness of death, all with a keen eye toward examining these dilemmas in fresh ways.
Free will offering.  Light snacks, wine and non-alcoholic beverages included.
Facilitators
HMS Acoustic Band
Steve Hart – Song Writer, Guitar and Vocals Steve obtained his first guitar at age 11 and has never stopped playing since (a very long time!), A native of England, he first developed as a performer while studying music at the University of Durham and regularly playing the folk scene…
Learn more about HMS Acoustic Band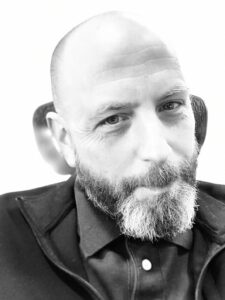 Christopher Grosso
Christopher Grosso's latest collection of poems, Said to Godhead, was published by Alien Buddha Press in July 2022. His poetry collection, Philadelphia Swank, won the Thirty West 2017 Chapbook Competition and was published that same year. He is the author of three novels, (Godfat's Door, Mauled, and Mouth to God's…
Learn more about Christopher Grosso