The Beloved Madonnas: Mary Brings Jesus to Us (onsite)
James Padilioni, PhD
December 4, 2021
Everyone is welcome at Cranaleith!  Request a scholarship here.
The mother of Jesus stands as a globally adored symbol of maternal love, suffering and sacrifice. Because so many love her, Mary serves as patroness for different national and ethnic communities the world over.  Local artists find ways to connect their communities to her and her son by creating artwork that looks like they do.
When this happens, we grasp anew why God chose to become a human being: God is available to every person across time and space!  Reflect on this reality by exploring with James the many faces of Mary and Jesus around the world.  After lunch, use templates to create your own Madonna and Child icon.  Celebrate the diversity of humanity as we remember that, through Mary, "the Word became flesh."
Your icon project can be as simple or as complicated as your experience and talent allow.  We will provide the templates on paper, as well as markers, crayons, pencils, paint and fabric.  Feel free to bring your own fabric and decorations.  We will have some glue guns available; please bring your own if you have one.
Facilitator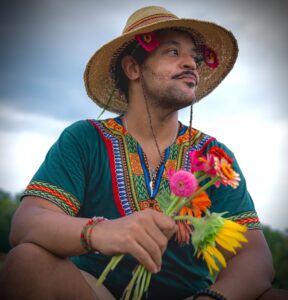 James Padilioni, PhD
James Padilioni, Jr. is Visiting Assistant Professor of Religion, Black Studies, and Environmental Studies at Swarthmore College. His research and teaching foreground Caribbean and Latin American folk Catholicism, African Diaspora ancestral memory and mythmaking traditions, and healing justice frameworks based on his ten years-experience in movement organizing and social change activism.
Learn more about James Padilioni, PhD