Santiago de Compostela and Black Madonnas: A Stay-at-home Pilgrimage (online)
Mickey O. McGrath, OSFS
November 9, 2021
Pilgrimages are grace-filled opportunities for growth and renewal, even the ones you make from your easy chair!  Journey on the historic pilgrim route from Paris to northwest Spain through art and stories taken from the pages of Bro. Mickey's travel sketchbooks and journals.
The tomb of St. James continues to be one of the most popular pilgrim destinations for people of all faiths and backgrounds from around the world.
Discover some of the greatest art and architecture of European history and "walk" in the footsteps of saints from across the ages. From Black Madonnas to Gothic architecture, from modern cities to medieval cliffside towns, we will see the timeless beauties of religious faith and rediscover what is still relevant for us today, in our own difficult times of unrest and uncertainty.
Facilitator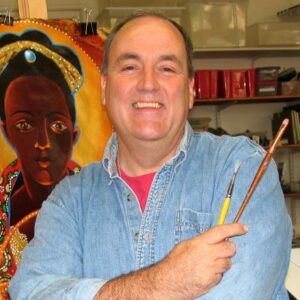 Mickey O. McGrath, OSFS
In a nutshell, I paint, write and tell stories, and then travel all over the place telling the stories behind what I paint and write. My first formal art lessons were at the Moore College of Art in downtown Philadelphia, my hometown. They had classes for young people on Saturday…
Learn more about Mickey O. McGrath, OSFS