Tenement Series: Art Exhibit and Artist Talk
Gail Morrison-Hall
October 18, 2023
Please join us for a talk with artist Gail Morrison-Hall. You will have the opportunity to view her mixed media paintings in her Tenement Series, a homage to all our immigrant forebears.
Consisting of ten images, the mixed media paintings were executed over several years, with the most recent ("Communities Grew") completed in spring of 2022.
In the words of the artist, "There may have been time lapses while working on the paintings, but the series was always there in my mind and heart waiting for completion."
"As a child growing up, I would hear the elders of my family and their friends tell stories about their lives in "the old country", their immigration to America and how they built new lives in this country so full of promise. One day, I discovered a treasure trove of old family photographs (some almost antique); I made photocopies of many of the images, added them to my boxes of collage materials and thus was born the idea for this series of collage/mixed media paintings."
"Some of the paintings are semi-autobiographical in nature since they include photo transfers of the old photographs that I found. My family's stories are not unique but are shared by many of the people who immigrated to America in the late 19th and early 20th centuries."
Light refreshments will be served. Cost for this program is a suggested donation of $25/per person.
Facilitator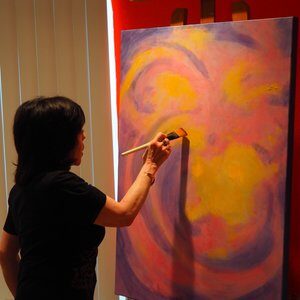 Gail Morrison-Hall
A Philadelphia native, Gail attended Tyler School of Art (Temple University) on full scholarship, graduating with a BFA and certification in education. She later graduated from Arcadia University with a MA ed +60 graduate credits. She spent the first part of her career as an art educator, helping K-8 students learn about…
Learn more about Gail Morrison-Hall