Grieving and Healing: Practices of Lament for Our Wounded Planet
Alison Cornish
October 14, 2023
In the autumn, as the natural world becomes stiller and starker, we too are invited to let go — to, in the words of Matthew Fox, "embrace the lonely, quiet moments in our lives when we are asked to sink into nothingness, to let pain be pain, and accept the mysteries of life."  When the trees lose their leaves, spaces open up — and we can see things differently. We see the world starkly, as it really can be, absent the robust greenery that hides the structures of the trees' branches and trunks — and, in the cities, also hide the angularity and solidity of the built environment.
In the same way, when we are stripped of our illusions — the false sense that the climate is not really changing; it was just a particularly hot, wet, fiery or dry summer this year — we can see things differently: we see with the heart.  We need to have our illusions peeled away, to face the hard truths of our times. It is better to live in the truth.
But to do that, we need to have real, loving company … otherwise, in our isolation, we are far more subject to despair.  And we need to access the ancient rituals and practices which mark the losses we are witnessing each and every day on our climate-changed planet. Only then might we move into the coming days with a regenerative spirit, filled with our commitment to life.
This day-long workshop will offer participants space to feel, articulate and honor grief for the harm done to Creation.  Together we will explore the Christian practices of lament as well as Buddhist-influenced practices drawn from the Work That Reconnects, and secular ceremonies of marking loss.  At the end of our time together, participants will leave with specific ways to continue to practice rites and rituals on their own.
Facilitator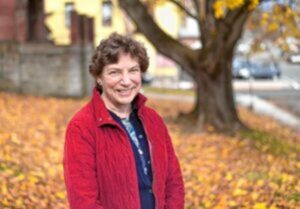 Alison Cornish
The Rev. Alison Cornish serves as a Program Consultant at the BTS Center, a nonprofit organization based in Portland, Maine, committed to preparing spiritual leaders for a climate-changed world. A Unitarian Universalist minister, Alison attended Andover Newton Theological Seminary in response to a felt sense of call directly from Earth to…
Learn more about Alison Cornish