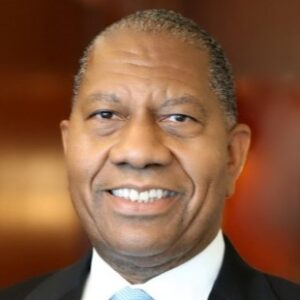 Dr. Carter is the president of the Value Growth Group, which specialize in value enhancement and growth opportunities for organizations. His proven experience in strategy, business development, operations, organizational effectiveness, and finance helps organizations grow and improve product and services that lead to increased market value.
Prior to leading the Value Growth Group, he was a senior vice president and member of the executive leadership team for the Federal Reserve Bank of Minneapolis. He has over 15 years of executive leadership experience in creating winning strategies, implementing successful organizational change, developing innovative customer solutions, identifying unnecessary and redundant costs through robust operations analysis, and leveraging data-driven assessments for growth opportunities. He led Treasury Services through multiple consolidations and won the competitive bidding process to become the sole customer contact center and operations support for savings bonds and Treasury marketable securities for the U.S. Department of the Treasury's Bureau of the Fiscal Service.
Dr. Carter is also an adjunct professor in the Labovitz School of Business and Economics at the University of Minnesota Duluth, and in the Leadership and Change MBA program at the College of St. Scholastica, where he teaches strategic management and strategic leadership and change. He serves as the Chair of Northwest Area Foundation, which is a half-billion-dollar foundation that supports people, organizations, and communities in an eight-state region to reduce poverty and achieve sustainable prosperity.
He received a Doctor of Education in organization development and an MBA from the University of St. Thomas, and a bachelor's degree in agriculture business from the University of Minnesota.