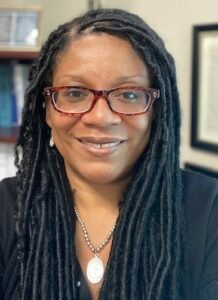 Tylia joined the Sisters of Mercy, South Central in March 2011. On September 24, 2012, she answered her call, making covenant as a Mercy Associate on Mercy Day.  Currently, she serves as Executive Director of Association and is directly responsible for more than 3,000 associates across the United States, Central and South America, the Caribbean, and the Pacific. She also serves on the Core Team for the Office of Anti-Racism and Racial Equity.  One of Tylia's greatest professional achievements was having an article published in America Magazine entitled "Among Mercies: My Grandmother, Catherine McAuley and Me." On her Mercy journey she uses every opportunity to challenge colleagues, friends and acquaintances to always stand with and for those whom we are called to serve through advocacy and social justice initiatives.
Tylia holds a Bachelor of Arts degree in communications from Southern New Hampshire University.  She is also a Mercy Emerging Leaders Fellow.  This international fellowship promulgates a culture rooted in spirituality that empowers female leadership within Mercy in hopes of recognizing and responding to the needs of our suffering world through a lens of Mercy and justice.  Tylia is currently pursuing theological education at Campbell University Divinity School and is enrolled in the Master of Arts in Faith and Leadership Formation degree program.  She is also in formation to become a Spiritual Director through Cranaleith Spiritual Center.
In her role as executive director, Tylia furthers the mission and vision of association, coordinating Institute-wide activities and facilitating common process, procedure and practices in Mercy Association while providing leadership and support to Association.
During downtime, she loves spending time with her three sons, making candles and reading in her hammock.