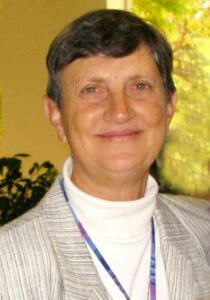 Linda Neil, CSJ is a Sister of St. Joseph of Carondelet. She is the co-director of St. Joseph's Place in Schenectady, a place of hospitality and prayer for the people of the Hamilton Hill neighborhood. Sr. Linda is also engaged in Eco-spirituality work, presenting a workshop series titled Encountering Earth: Reclaiming the Human in the Web of Life, designed to help participants become more mindful of being responsible and caring members of the Earth community. Sr. Linda holds a master's degree in religious studies from St. Charles Borromeo and a MA from the Earth Literacy Program at St. Mary of the Woods College, IN. She enjoys hiking and outdoor pursuits and serving on committees with other Sisters of St. Joseph.
Linda has been a presenter/retreat leader at Manna House (Concordia, KS), Miramar Retreat Center (Duxbury, MA), St. Joseph's Provincial House(Latham, NY), the White Violet Center (St. Mary's of the Woods, IN), St. Stephen's Retreat Center (Oahu, Hawaii), Genesis Spiritual Life and Conference Center (Westfield, MA), Mercy Center (Madison, CT), Prairiewoods (Hiawatha, IA) and parishes and schools in the Albany Diocese.
Presentations and retreats can be found on her website: https://23ylbcnp3dmzotz4.vistaprintdigital.com/
Events with Linda Neil, CSJ
Living Simply in a Consumer Society (online)
October 7, 2021
We will reflect on living in our society in a way that is free, compassionate and truly human! The presentation weaves the art of Marion Honors, CSJ with music and poetry, story and science. The experience fosters a deeper consciousness of our place in the web of life.