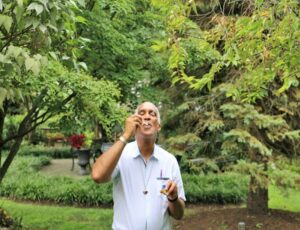 Danny L. Thomas, Executive Director of The Peace Center, Inc., is professionally trained in conflict management skills.  His primary focus of reconciliation and bridge building challenges parties to see the "Now" and work toward the "What Could Be".  He is also a pastor in the United Methodist Church. He has served congregations who have become active change agents and advocates in their communities.
Prior to The Peace Center, Danny served as chaplain to the regional hospital in Jinja, Uganda, as pastor in Trenton, Windsor  and Salem, NJ.  Through the Association for Conflict Resolution he had the opportunity to work first hand on location with a story sharing program in the Israeli-Palestinian conflict. He continually reviews, expands, and reshapes his thoughts, techniques, and practices on peace-building as he grows.
Years before ministry and a Master of Divinity degree from Princeton Theological Seminary, Danny received a Bachelor of Science degree in Biology from Virginia Tech and graduate pursued studies in Environmental Toxicology as well as Organizational Development.  He is trained in Inhalation Toxicology, Developmental Behavior/Ethology, as well as Pastoral Care/Counseling and Ministry to the Bereaved.
"Step out of the conflict for a moment.  Find yourself.  Look at the conflict with fresh eyes.  Bubbles (and joy) don't hurt!" -Danny