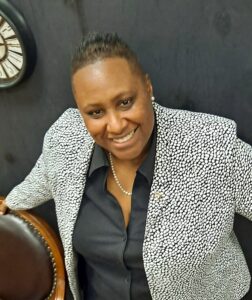 Aronda is a native of Houma, Louisiana.  She is an honorably discharged Army veteran.  She resided in Philadelphia for twenty years, where she earned a master's degree from the University of Pennsylvania in Organizational Dynamics, as well as master's certifications in Organizational Coaching, Organizational Development and Change Studies and Organizational Leadership.
Aronda's career has focused on leadership development, program design and implementation, personal effectiveness and organizational innovation and development.  She founded the non-profit Women Veteran Command Center in Philadelphia.  In addition, Aronda worked extensively with ex-offenders at Liberty Management Services as the assistant director of their 124-bed facility designated for parolees and pre-release.  In 2020, Aronda returned home to Terrebonne Parish, where she launched Legacy Business Center.
She emphasizes "leading from the center," a rite of passage to becoming an authentic leader.  Her down-to-earth approach, humor and candor have enabled her to inspire and encourage people from all walks of life.  She is pragmatic, thought-provoking and authentic.
Aronda has been recognized in both civilian and military life.  For example, as a medic with 3rd Armored Division 45th Support Battalion in Desert Shield-Storm, Aronda and her unit received the Valorous Unit Award..  She has also had the distinguished honor to moderate a panel at the Women Veterans Employment Symposium in Washington, D.C., sponsored by Redbook Magazine and former First Lady Michelle Obama.
In March 2022, she published Appreciative Inquiry: A Strength-based Approach to Enhance the Lives of Women Veterans.
Listen to Aronda talk about her book in this interview on Learning Aloud with Stephen Hart. 
Check out her website: Aronda Enterprises LLC