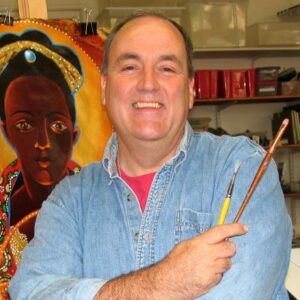 Brother Mickey McGrath is an artist, author, storyteller, and retreat director who currently lives and works in Camden, NJ. A native of Philadelphia, Brother Mickey has been a member of the Oblates of St. Francis de Sales for forty-seven years. After receiving his MFA in Painting from the American University in Washington, DC, he worked as a professor of art at DeSales University in Center Valley, PA. Since 1994, he has been pursuing his ministry of art full time. He has published more than twenty award-winning books.  He has just received a First Place Award from the Association of Catholic Publishers and a Second Place Award from the Catholic Media Association for his latest book, Madonnas of Color.
Mickey travels to conferences and retreat centers throughout the United States and Canada in order to share his firm belief that beauty will indeed heal and save our broken world. For the past thirty-three years, Bro. Mickey has taught and worked at the Grunewald Guild, an interfaith art community devoted to the intersections of art and religious faith in the Cascade Mountains of Washington. In recent years, he has offered webinars and taught Graduate Spirituality summer classes at Boston College and the Catholic Theological Union in Chicago.
Over the last ten years, Bro. Mickey has had solo exhibits of his work at St. Ignatius Church in Baltimore; Germantown Mennonite Church in
Philadelphia; the Los Angeles Religious Education Congress at the Anaheim Convention center; Villanova University; Cabrini University in Radnor, PA; the Sheen Center for Thought and Culture in NYC; and the Catholic Information Center of Grand Rapids.
Pope Francis has said that artists are apostles of beauty- and Bro. Mickey takes this ministerial role seriously. Art, one of the great gifts of the Holy Spirit, brings us joy and hope in these very broken and disturbing times in history. His faith and philosophy can be wrapped up in this quote from the patron of his religious community:
We pray best before beauty.
St. Francis de Sales
For more information go to www. bromickeymcgrath.com
Events with Michael O'Neill McGrath, OSFS
Madonnas of Color: A Celebration of Mary and Our Creative, Nurturing God
December 7, 2023
Since the earliest days of the Church, Black Madonnas have been a source of devotion, inspiration and conversion of hearts.  Using his own art and stories from his multi-award-winning book, Madonnas of Color, Brother Mickey will guide us on a visual tour of some of the most beloved images of…