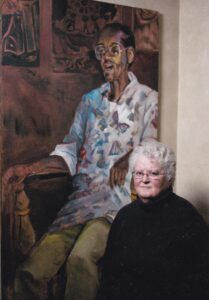 Sister Helen David Brancato, IHM studied portrait painting at the Pennsylvania Academy of the Fine Arts and a variety of visual art forms at The Tyler School of Art of Temple University.  Working as a painter, printmaker, and illustrator, she has exhibited professionally primarily in the Philadelphia and New York areas and taught visual arts at Villanova University.
She collaborated as illustrator with Henri Nouwen on Walk with Jesus: Stations of the Cross and with Evelyn Mattern on Why not Become Fire?: Encounters with Women Mystics. But one of her major accomplishments has been guiding artists from six to eighty years of age in an open studio at the Southwest Enrichment Community Art Center in Philadelphia.
She is the recipient of an Independence Foundation Artist Fellowship, and her work is in the collection of The Museum of Contemporary Religious Art in Saint Louis University and Villanova University.  Sister Helen David's artist's statement resonates beautifully with her mission:
My work is bound up with the human condition.  I respond to nature peacefully and to human nature with healthy agitation. It is important for me to interact with the lives of the poor. Through painting, I try to bring the depth of my insight into the pain, the strength, and the dignity of my subjects.